In a move carried over from his work at Marvel and Fleer, John created a collector frenzy by creating the 1/500 Voodoo Tiki Soul Tiki Bottles.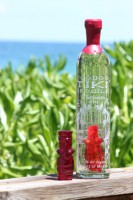 Cases of of Voodoo Tiki Platinum tequila that shipped in Fall 2011 were randomly packed with one or more Voodoo Tiki "Soul Tiki" Bottles.
The Soul Tikis are identified by their invisible (clear) exterior allowing the owner to peer into the soul of the tiki. The result is a tiki with an invisible exterior and a red ghostlike interior.  Voodoo Tiki "Soul Tiki" bottles occur in only 1 in 500 bottles, and were only available  in 2011, and in Voodoo Tiki Platinum Tequila Red (Platinum).
Expecting that the "Search for the Soul Tikis" would case a bit of a frenzy in liquor stores, at the same time 1/6 bottles of Voodoo Tiki Tequila contained a hand written, "Voodoo Tiki Magic Word" on the bottle back.  The result was that if VT fans couldn;t find a Soul Tiki, they might potentially find a handwritten magic word bottle.
The Soul Tiki bottles resulted in a 10% increase in "Sell In", and noticeably increased foot traffic and sales of Voodoo Tiki Tequila in "Off Premise" liquor sales outlets.
To learn more about the ultra-premium Voodoo Tiki Tequila brand created by John Taddeo, Click Here.