The release of Voodoo Tiki Tequila Die Cut Floor Talkers was big news for liquor store retailers.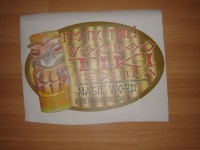 Floor Talkers create instant attention to the Voodoo Tiki Family of products when placed in the aisle in front of your Voodoo Tiki tequila facings, or on the floor near check out if you keep Voodoo Tiki products at the point of sale.
Getting noticed is a primary goal of any advertising, but in retail stores space for signage is at a premium. When marketing space is tight, these "Floor Talker" heavy duty decals can be both space conservative, and highly effective.
The Voodoo Tiki Tequila Floor Talker decals can be placed on any vinyl floor.
Retailers could receive Voodoo Tiki Tequila Floor Talkers by telephone request, or the electronic print ready files were also made available to retailers and distributors.  Additionally, the Voodoo Tiki Tequila Sales team always kept a few on hand for great placements on the spur of the moment.